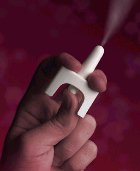 Click Here for more
information on Palatin
Technologies, Inc.'s
Bremelanotide
CLICK HERE To Watch
ABC NEWS NIGHTLINE
Video Segment About
BREMELANOTIDE
Read Entire ABC NEWS
Story CLICK HERE

COMING VERY SOON !

BREAKTHROUGH NEW TREATMENT OPTION EXPECTED TO BE APPROVED SOON FOR MEN
WHO CANNOT TAKE VIAGRA ®, LEVITRA ® OR CIALIS ® FOR ERECTILE DYSFUNCTION (ED)...
DUE TO HIGH BLOOD PRESSURE MEDICATION OR CARDIOVASCULAR DISEASE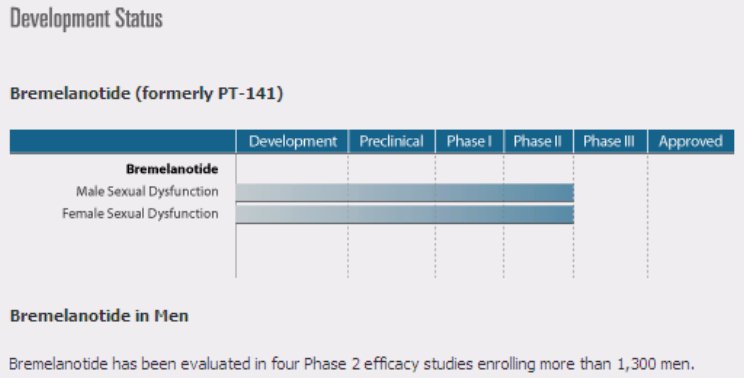 Bremelanotide (formerly PT-141 ®) Melanocortin-based Nasal spray, the first in a new class of therapies called
melanocortin agonists, works through a mechanism of action involving the central nervous system rather than
directly on the vascular system. As a result, it may offer significant safety and efficacy benefits over currently
available products, including Viagra ®, Levitra ® and Cialis ®, which belong to the class of phosphodiesterase-5
(PDE-5) inhibitors.

Bremelanotide is nasally administered and is both non-invasive and fast acting. Importantly, Bremelanotide is
not expected to be contraindicated in patients taking nitrates for the treatment of cardiovascular disease.
Clinical studies have demonstrated Bremelanotide to be safe and effective and to improve patient experience.

Palatin plans to begin Phase 3 trials for erectile dysfunction (ED) in men in the first half of calendar year 2007.
A Phase 2B at home study of bremelanotide in female patients with female sexual arousal disorder (FSD) is also
anticipated to be completed in the first half of calendar year 2007.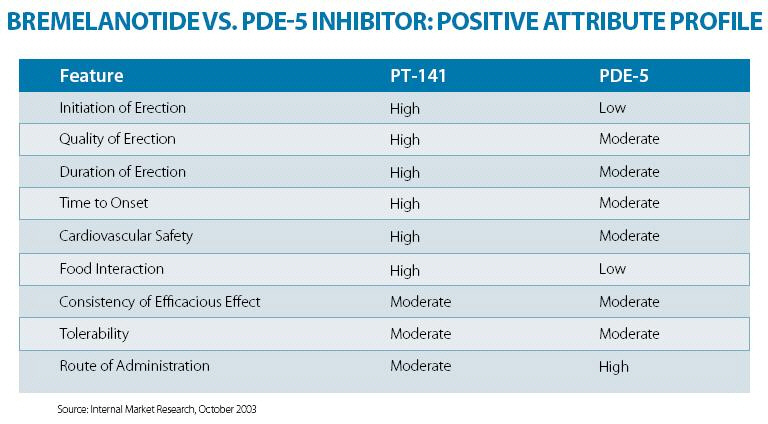 SOURCE: PALATIN TECHNOLOGIES, INC. http://palatin.com/pdfs/bremelanotide.pdf



Commentary from Clinical Trials


On the five point scale, I'd score the
erection I had as a six."
- Patient 41

"The extended staying power is a plus
because you can go again if you want to;
there's a possibility of another
encounter…"
- Patient 207

"Because the drug is an initiator, I could
approach sex more confidently, knowing
beforehand that it would work. I felt more
at ease and relaxed…"
- Patient 207

"…PT-141 was faster than Viagra® so I
prefer it…"
- Patient 197
SOURCE: http://palatin.com/products/bremelanotide/commentary.asp